Zhou Jiahua: Green Trend Promotes the Great Development of Plastic Building Materials
---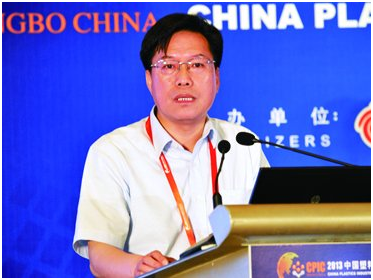 More than thirty years ago, rigid PVC low foaming plastic (mainly composed of polyvinyl chloride, abbreviated as PVC) was first introduced in Western Europe and was referred to as the "wood of the future" at that time. Compared with wooden materials, rigid PVC low foaming materials have the characteristics of moisture resistance, corrosion resistance, insect resistance, flame retardancy, no need for paint, non-toxic and odorless, and can also resist termites. This type of product not only saves wood, but also effectively improves people's living environment, making it the best indoor and outdoor building material.
In the eyes of Zhou Jiahua, Secretary General of the Rigid PVC Foam Products Special Committee of the China Plastics Association, rigid PVC low foam plastic is like a bride wearing a red hat, making him infatuated. He firmly believes that one day he can lift the red hat of this bride and achieve the pinnacle of his life and career in the public eye.
In recent years, the annual growth rate of foam plastic products in China has exceeded 15%, becoming a highlight of the development of the plastic industry. In the context of establishing a resource-saving and environmentally friendly society, traditional building templates such as bamboo plywood and wood plywood have caused serious resource waste due to their large usage, gradually losing their market advantages, giving plastic building materials with environmental protection and energy conservation characteristics greater development space. For hard PVC foam building materials, such as hard PVC foam building templates, building exterior wall decorative panels, etc., due to their significant energy-saving and environmental protection effects, the consumption in foreign countries is currently growing rapidly. They are a new type of plastic building material with huge demand, following plastic pipes and plastic door and window profiles.
Despite the optimistic outlook, currently, production and construction enterprises in China have insufficient awareness of rigid PVC foam building materials products. Zhou Jiahua told reporters: Green, environmentally friendly, and with multiple turnover times, recyclable plastic templates will become a new choice that meets practical development needs. With the maturity and improvement of plastic template technology, the comprehensive advantages of its application will gradually be improved, and it will definitely be widely accepted by the market. This is a very meaningful thing, but it requires upstream production enterprises, downstream construction enterprises, and individual consumers at the end to recognize the social significance of this matter Be righteous and take action. This requires a process, and I believe it won't be very long
In 2012, the China Plastics Association issued the "Guiding Opinions on the 12th Five Year Plan for the Development of the Plastic Processing Industry", which clarified the position of the plastic processing industry in the national economy and clarified the overall development strategy of the industry during the 12th Five Year Plan. It is pointed out that it is necessary to rely on technological innovation, promote technological progress, and promote industrial upgrading, focusing on building a modern industrial system, in order to promote plastic processing enterprises to take the path of technological innovation, energy conservation and emission reduction, and brand efficiency, continuously narrowing the gap with developed countries, and laying a solid foundation for achieving the goal of becoming a strong country in the plastic processing industry.
Under various development requirements and trends, and with the increasing call for green buildings and green construction in the country, the demand for research and development of new green, environmentally friendly, and recyclable building templates will become increasingly urgent. Introduction by Zhou Jiahua: After many years of research and development, using plastic templates to replace traditional templates is a relatively effective method. From the perspective of the entire industry since 2009, foam board has developed the fastest in PVC. PVC foam products change the properties of plastic into wood, and the development of this industry is in line with China's national conditions and social needs. In North America and Europe, it has also been promoted in recent years. The United States proposed in 1999 that PVC foam materials are the future 50 The best product to replace wood within the year. It is truly artificial wood, without any wood powder inside, but it has become the performance of wood, and has great development space in the construction industry, decoration industry, and furniture industry
China's social and economic development is undergoing a major transformation period, shifting from investment oriented development to deeper level development. The most important way to promote the development of an industry or a product is to expand its application fields and scope, and extend the upstream and downstream industrial chain.
"In order to promote the development of PVC industry, we should not only focus on the development of PVC industry itself, but more importantly, we should go to the market, pay attention to the needs of the market, find alternative products in the market, and then take advantage of the cheap and thermal insulation characteristics of PVC itself (for example, its heat transfer coefficient is only 1/8 of aluminum and 1/5 of iron) Further expand the downstream application fields of PVC. Only by studying the market, even changing outdated consumption habits, and creating demand, can new types of rigid PVC foam products that meet development requirements have great potential! "
As the Secretary General of the Rigid PVC Foam Products Special Committee of the China Plastics Association, Zhou Jiahua has made a lifelong commitment to this. He moved his laboratory and studio to the front line of the factory. At the generous invitation of Zhongyang Construction Group, he chose to start dreaming with plastic building templates with Zhongyang and remained steadfast!
---
All rights reserved:Zhongyang Construction Group Address:Nanchang City, Jiangxi Province, Honggu Beach Green Road 500